Home Page
Solar Air Heating
Solar Heated Stock Tanks
Nano House
What You Can Do Today
Contact Us

Choice Energy offers on-site energy conservation consulting for homes and businesses. There is a lot of low hanging fruit to reduce energy use in the home. Typically, houses can reduce their electric consumption by half just by changing to efficient lighting and lighting controls, weatherizing, and insulating hot water lines. For getting around, we simply have to break the habit of jumping in the car for every single errand. Combing trips, using bikes, walking, making the kids ride the bus to school, using Streamline, and just thinking about whether or not we really need to leave our nice houses and yards at all is the intelligent first move.
I charge $60 for an initial visit and energy analysis, and I loan you an energy meter to put on your refrigerator or other 120-volt appliances to analyze electrical consumption. For help in the handyman department cleaning fridge coils, weatherizing, and insulating water lines, we charge $115 for homes less than 2000 square feet. Homes between 2000 and 4000 square feet are $170. Homes over 4000 square feet are $250. At least one year of power bills (provided on each month's bill) are required for effective results.
For those wanting to go further, I can advise on weatherizing, solar furnaces, solar hot water heating, shortening hot water piping runs, and tax rebates. I feel that email consultation is commonly the most productive for more in depth issues, because the client is left with a written record, but phone or in-person consulting are options as well and it is your choice. Rate is $50/hr, half hour minimum, for which I will email you a PayPal payment request before we begin. To begin, click here to send me an email and type in a brief note about the goals of your consultation. I type fast and I let you know how many minutes you have left at the end of each email.
Northwestern Energy has a great green power program where you can go carbon neutral with green tags, receive free energy audits, and learn more about energy efficiency.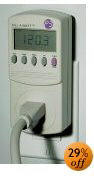 Kill-a-Watt Meter This handy little meter tells the truth about energy use by anything that plugs into the wall outlet. Reads real time usage in watts, amps and volts, and accumulates total usage. A new model even calculates savings in $.