Solar furnaces are a heating solution

* No moving parts
* Off-Grid, no fuel or maintenance required
* Cost effective heating in this sunny, cold climates

The only requirement being a good south facing wall and.....Sun.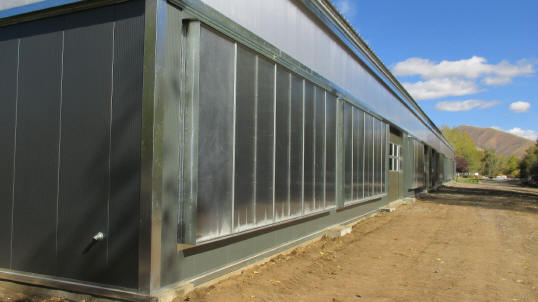 Summer 2017 installation at Swiftsure Ranch Therapuetic Equestrian Arena
Brand new arena with seven 18'x8' panels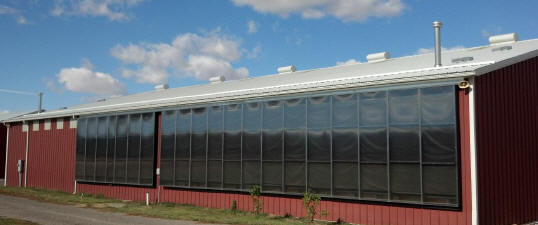 Fall 2012 installation at Eagle Mount's equestrian arena
Above Panel Dimensions 80' x 12' Building size 80'x120'
Size is always customized to the available wall space, generally 10% of sq ft area of building
"The Choice Energy Hot Solar Air system that was installed in the fall of 2012 performed amazingly for us this winter. With the addition of the insulation and the hot solar air panels our participants, volunteers and horses were comfortable throughout the winter riding sessions. We only turned the gas hot air heater on once and left it on for a very short period of time - just to take the morning chill off." Eagle Mount, Bozeman, MT
"To Whom It May Concern,
I was already acquainted with Mr. House when that referral was made, as I am a volunteer riding instructor at Eagle Mount, where he installed a passive solar heating system in late 2012. He has since installed a small passive solar air system on my building in Bozeman, with construction completed in early February, 2013. In these recent cold days, I have been delighted with the performance. Mr. House was prompt in responding to my questions and concerns, completed the project when scheduled, and has been available to answer questions and concerns well after his final payment was made." Betsy, Johnson Road, Bozeman, MT February 2013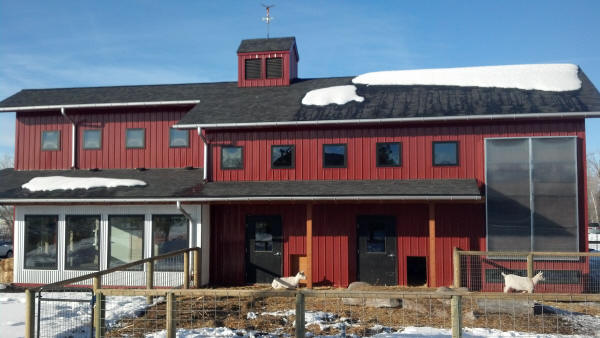 Middle Creek Montessori's solar air heater in their new working educational barn, Fall 2015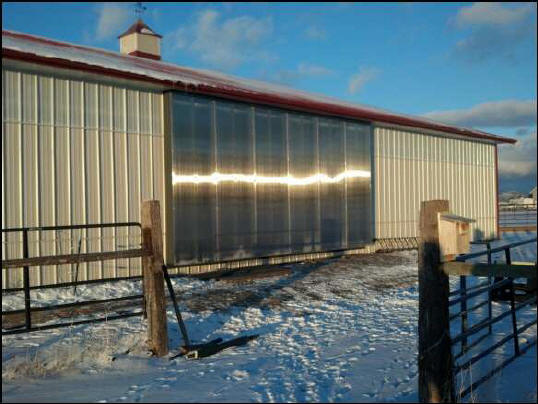 Feb 2013 Installation on Johnson Road near Bozeman
Above Panel Dimensions 25' x 12' Building size 60'x80'
Click HERE for a time lapse video of the installation
How It Works
Watch our demonstration video:
There are two versions of solar air heating: active and passive. In the passive version, no fans are used and openings are created through your existing wall at top and bottom, allowing heat as well as daylight to enter while retaining the vast majority of the inside wall space in its original condition.
The active version utilizes at least one highly efficient duct fan to push the cool intake air through the heating panel. This requires some minor electrical installation but allows the hot air to be delivered to locations other than the immediate room or space that the heater is mounted to, and also greatly reduces the amount of labor in creating the wall passages along the top and bottom of the passive heater.

In either version, the exterior surface can remain its original color, or painted the sun's favorite color (black) for additional heat output. Galvanized steel framing is attached to the outside of the building onto which clear polycarbonate panels are attached. The end result is a sealed 6- to 8-inch thick greenhouse that pumps warm air inside.
It makes heat when you most need it - winter - and turns off in the summer. The panel receives very little direct light during the summer months because of the high angle of the sun, however, during winter the low angle sun comes in at full strength and extra sun is reflected onto the panel by snow covered ground which can nearly double the output.
In the he passive version, backdrafting during night time or cloudy weather is prevented with simple flaps on the inside of the passages. With the active version backdrafting is prevented by use of a simple one-way duct flap installed on the return air side.
Installation takes only a matter of days.
Email for a price estimate or to schedule a site visit.

Specifications of the heater shown at top left of page
Heat Output: Considering a 20x8 collector, 160 sq ft * (Pictured at Top Left of page)

Building insulation: R19 in walls and ceiling of 700 sq ft room
Temp rise between intake and output vents: 50-60 degrees
Btu of peak output: 25,000 Btu/hour, total daily heat gain 130,000 Btu, or 38 kWh (kilowatt hours)
Petroleum fuel equivalent of 130,000 Btu: 2 gallons
Indoor air temp achieved on sunny day: 60-75 degrees F
Time required to raise indoor air temp from 35 to 65 degrees: 3 hours
Cost per sq ft of collector (materials only, Jan 2009): $3.50/sq ft
Cost per sq ft of installed collector: $15-25/sq ft
Cost of commercially available collector: $61.59/sq ft plus shipping and installation (includes solar fan)
* Taken by permission from Gary Reysa, Build A Simple Solar Heater, Mother Earth News, December 2006/January 2007

These heaters are designed with the generous and valuable hands on research of Gary Reysa, author of the following article: http://builditsolar.com/Projects/SpaceHeating/solar_barn_project.htm Gary lives here in Bozeman and is host for an excellent web site of low cost, weekend scale, do-it-yourself solar projects.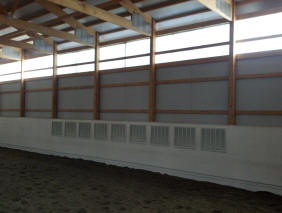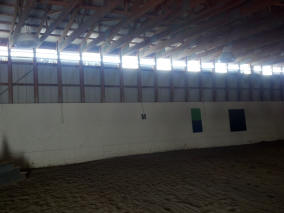 This Page Last Updated: November 19, 2017