This installation was completed in October 2012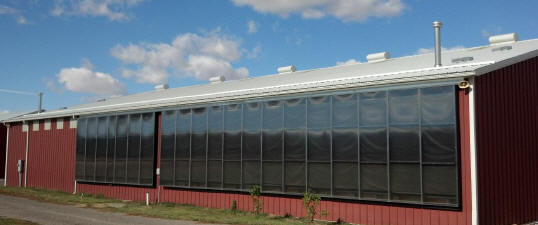 Solar Air nstallation at Eagle Mount's equestrian arena, October 2012
Above Panel Dimensions (78' x 12')
Size is always customized to the available wall space, generally 10% of sq ft area of building
Specifications
Heat Output: To be measured with temperature sensors, air velocity meter, and data logger. Stay tuned for empirical economics. See Solar Air page for past data on existing collectors.
Size: 936 sq ft
Building Size: 10,000 sq ft
Target Temperature: 50F
Building Aspect: Straight east-west making for a prime south facing solar heater with no shading
Building insulation: R19 in walls and ceiling

Data Logger: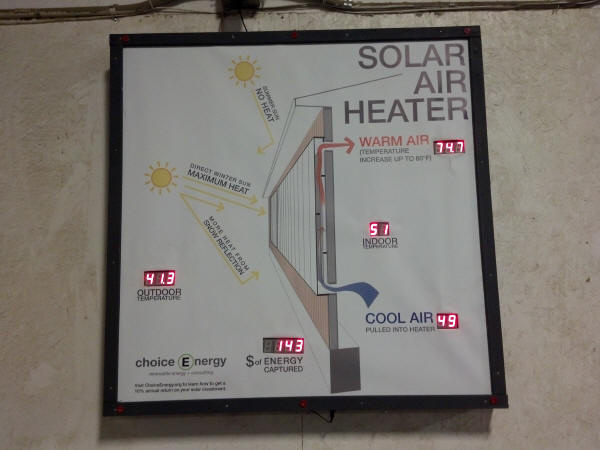 A solar air data logger was designed and built which doubles as an educational display inside the arena. The logger is currently installed in the arena and collecting data; no wireless signal is available there so we didn't go for a live uplink and data is stored on a micro SD card with the capacity to store over a year's worth of data. We plan to make this data logger available for purchase as we certainly did not find one and measuring heat from a solar air heater is challenging due to the need to measure very low velocities of air movement. Basically, the data logger measures the temperature differential between the incoming and outgoing air to/from the panal, the air speed of warm return air, then does the math to calculate the value of heat produced.
The arduino computer was designed and programmed by Eric Kuntzelman, the sign was designed with the help of Sten Witmer.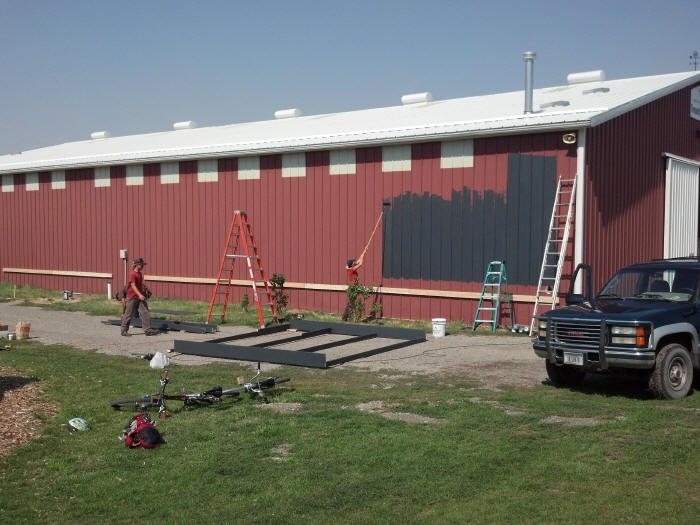 Day 1- 2x6 ledger attached to building with 10" log screws, ledger will hold most of the weight of the panel.
First 12' of heating panel being constructed on the ground.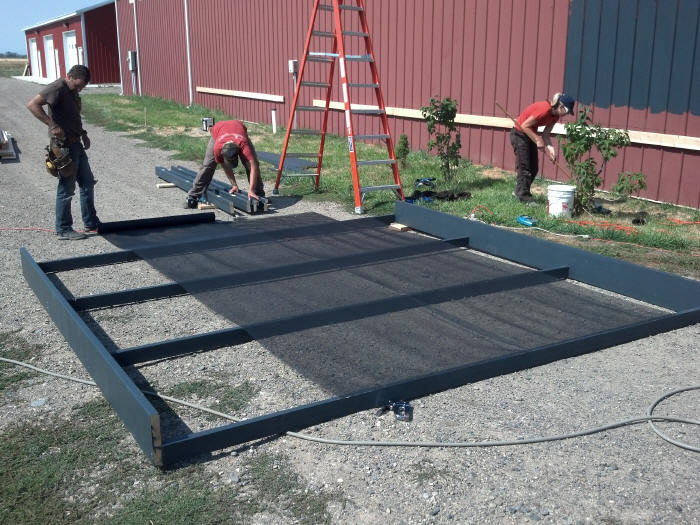 First 12' wide panel being framed to include two layers of window screen heat absorber (fiberglass window screen). Andy Allen's low tech breakthrough: sandwich the screen between 2x4-2x2-2x4 stack of vertical members instead of installing the screen one bay at a time.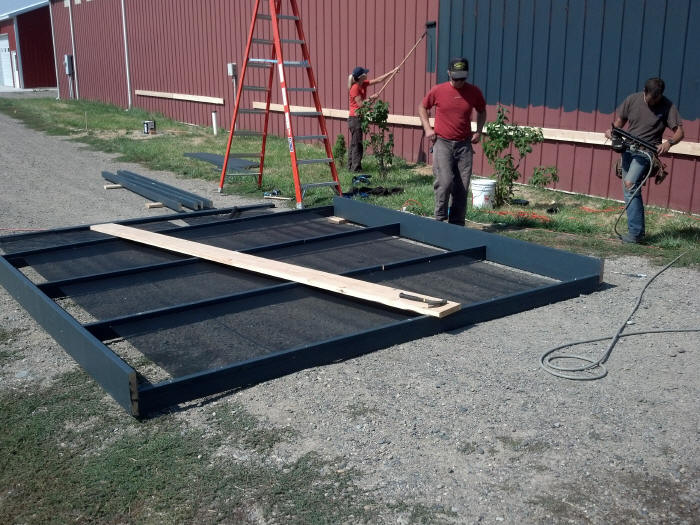 Window screen sandwich complete, panel ready to go up.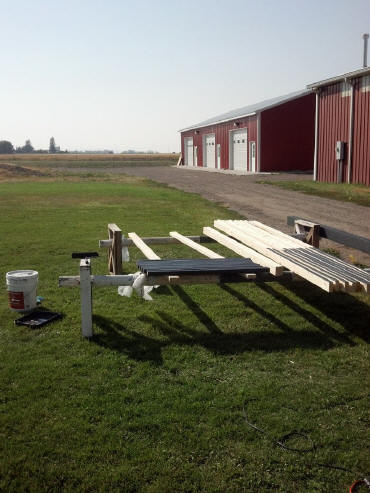 Lumber pre-painting racks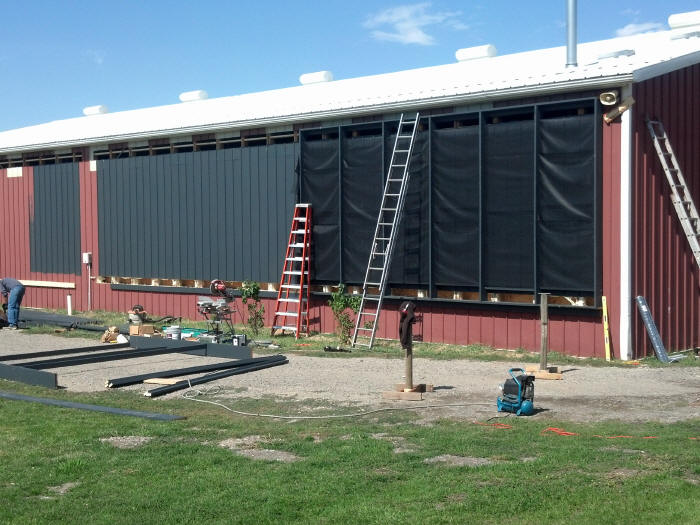 First 24' of heater attached to building; lower and upper air vents cut through building exterior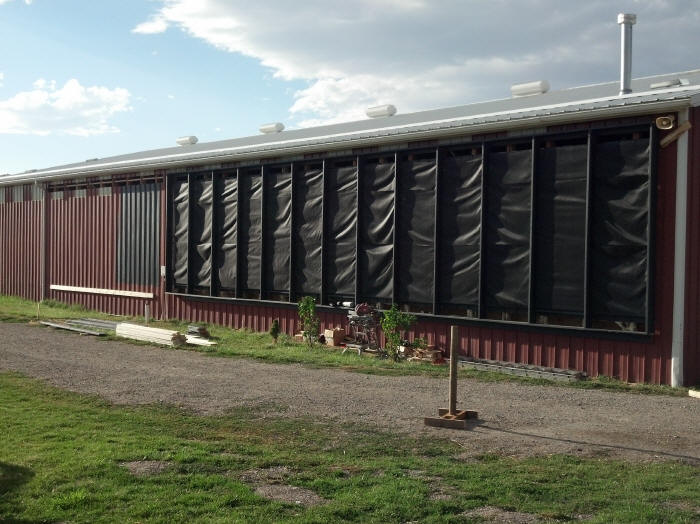 End of day 2: 48' of heater panel mounted on building. Mainly lacks plastic twin wall sheeting at this point.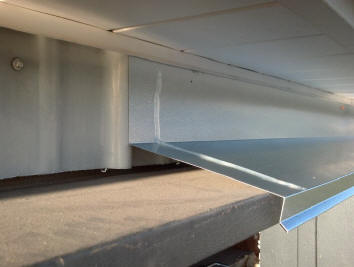 Custom flashing for top of heater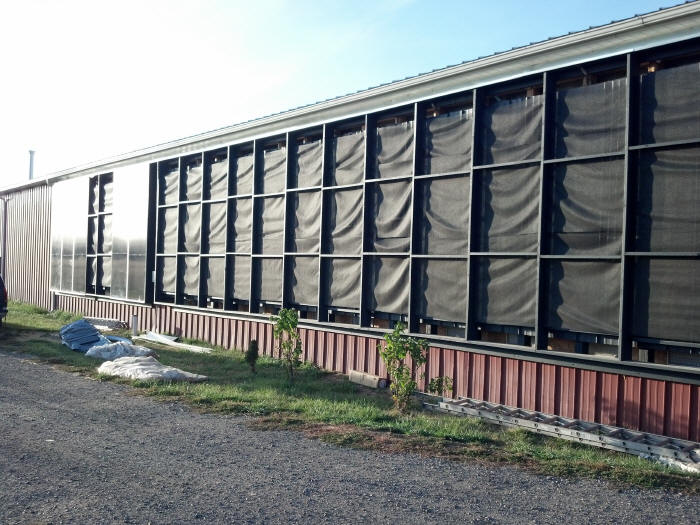 First 5 sheets of twin wall installed on left panel, joined on vertical edges with H-channel and screwed on with 1" rubber gasket roofing screws.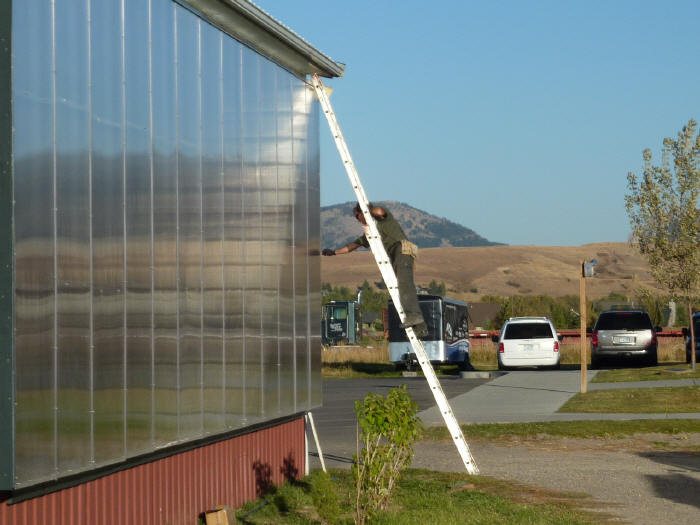 The "last" screws

Making heat. Stay tuned for heat data, equipment being designed now to measure temp rise from bottom to top, air speed at hot air exhaust vent, and indoor and outdoor temperature.
Watch our demonstration video:
Email with questions, comments, price estimate, or to schedule a free site visit.